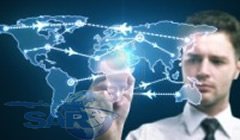 SAR Travel Solution Pvt Ltd is a unique, global aviation services and travel management company providing comprehensive aviation solutions to corporations, government agencies, athletic teams and individuals. Specializing in solutions for complex aviation support requirements, the company's knowledge, logistical expertise and customer service are unrivaled in the industry. SAR brings integrity and reliability to every mission.
As a leading in aviation service provider, SAR provides passenger and cargo air transportation, aviation logistics and program management, mission specific aircraft and private air charter support. A global network of qualified and carefully screened partners enables SAR to provide comprehensive aviation services on a moment's notice anywhere in the world.
SAR support all type of Flights i.e. V.V.I.P, V.I.P, Private, Commercial, Ambulance, UN Militry, Ferry Flights and Cargo Flight. With SAR at your side you can rest assured that all your ground handling need will be experience in providing assistance to flights and a red carpet treatment. Our round the clock vigil & personal attention to the smallest details ensures a very smooth handling.
SAR maintains numerous industry connections, enabling SAR to provide government agencies with a variety of contract options. The company's vast knowledge, experience and reputation for reliability have made SAR a leading supplier of Govt/ Corporate House aviation services. Within its contracts, SAR manages fleets of aircraft, provides security and medical services, coordinates fuel services, ground support and ground transportation, provides domestic and international flights and responds to emergency situations and medical evacuation.
---